RiverWalk pedestrian bridge to be completed by this fall
After Saco Island owner Kevin Mattson voiced serious concerns about the future of the RiverWalk pedestrian bridge last year, it seemed unclear whether or not the project would ever be built. But, since Mattson announced in a video release in March that complications had been resolved, plans for the bridge have moved forward. This announcement comes as a relief to supporters on both sides of the river. All parties agreed to a deed many months ago, and were waiting for Saco approvals as the final piece to the puzzle.
This news should also come as a great relief to anyone advocating for the revitalization of the downtown Biddeford-Saco area. The bridge will improve access to and from the Saco Amtrak station for both members of the community as well as tourists.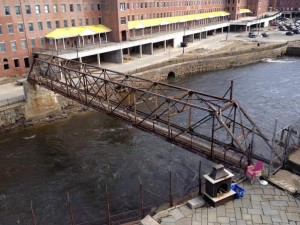 The bridge will give also give users access to views of the Saco River falls that are currently unavailable. Any increased foot traffic brought on by the bridge will be welcomed by businesses on the Pepperell Mill Campus that have a retail component.
The completion of this bridge will continue current efforts to connect Biddeford and Saco as one vibrant economy. The new bridge, pictured above, will replace an existing steam pipe bridge. The project will be funded by a $426,000 grant from the Maine Department of Transportation's Quality Communities Program. If things continue according to plan, construction on the pedestrian bridge should begin by mid June and be completed by fall of this year.
---