Pepperell Mill Campus adds 50% more residential units
Pepperell Mill Campus will soon make 51 more apartments available for rent, bringing its total to 151.
That's on top of the 121 businesses that operate in the mixed-use campus and employ more than 500 people.
Quite the difference from 2004, when Eastland Construction and Management bought the mostly shuttered downtown Biddeford property. Back then, just a dozen or so people showed up to the mill for work each day, down from thousands when the mill was operational.
"It's unbelievable to see the growth and transformation," says Director of Leasing Megan Higgins. "These new apartments are beautiful, with original hardwood floors, exposed brick, and so much more, all updated with modern efficiencies. Combined with businesses that now occupy 700,000 square feet, they create a community within a community."
Eastland has done all of the renovation itself, working "day and night" to meet demand for the new units, Higgins says.
The apartments will be available for prelease as soon as the Pepperell Mill Campus launches its new website in mid-February.
The announcement of the new apartments is being made in parallel with the mill's rebranding and website redesign, led by Portland-based branding and media company, Trueline.
"Opportunities like this one, where we're focused on boosting revenues and supporting communities, show what our team is capable of," said Trueline's CEO Haj Carr.
The website redesign, Higgins said, is "is tailored to attract new commercial tenants as well as add value to our existing businesses," as it allows businesses operating in the mill to have a landing page instead of creating their own, standalone websites.
Any business operating in the mill has access to hire their general contracting services through Eastland, the contarctor for the apartments. The result is time and cost savings versus needing to find outside tradespeople to provide services ranging from plumbing to installing Wi-Fi.
In terms of supporting the local economy, "I would say we've hit a critical mass," says Higgins. "Not only are we our own community—we also rely on local businesses. As contractors, we buy our supplies from local vendors like Dupuis Hardware and Deering Lumber. Biddeford has evolved into a city that has it all."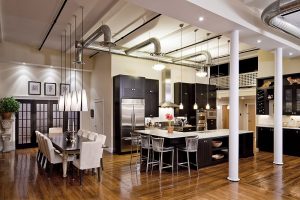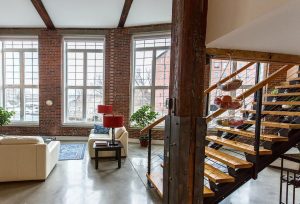 ---